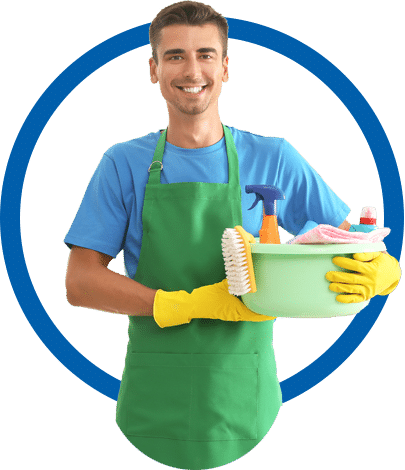 Cleaning Services Canberra
Struggling with stubborn cleaning issues in Canberra?
Tackling dirt and grime on your own can be time-consuming and exhausting. That's why we, Best in OZ Cleaning Services, are here to help you. With our expertise and state-of-the-art equipment, we can efficiently handle all your cleaning needs. Our dedicated team ensures a spotless and hygienic environment from residential spaces to commercial establishments. Whether it's end of lease cleaning, carpet cleaning, deep cleaning, or regular maintenance, we have you covered.
Say goodbye to the hassles and enjoy a pristine space with our top-notch services.
2000+ Served Clients
Multiple Payment Option
Experienced Cleaners
Top reasons to be your cleaning partner!
Here are some of the points that contrast us among other cleaning company in Canberra.
01
Our fully insured cleaners have received extensive training. They are extremely competent and experienced; and are also security checked at the time of recruitment.
02
Our friendly cleaners follow our company's requirements and the latest cleaning standards while doing their work so as to ensure our client's satisfaction.
03
Our clients have booked us for various cleaning responsibilities which stress our competent and capability in the cleanup arena. Even our records hold our clients got their bond without any cleaning issues.
04
Our cleaners use the latest technologies to ensure the protection and longevity of your property which also minimizes health hazards.
05
To obtain free estimation, you can use any of the given methods- online quote form, text, phone, or email. You can select any comfortable method, we'll undoubtedly complete your work.
06
We provide a comprehensive quote in line with the cleaning needs. Before commencement, we will share the cleansing service fee. The invoices are issued after completion.
Best in OZ Cleaning Services at your service!
Our Cleaning process
Our spotless cleaning process at Best in OZ Cleaning Services unfolds seamlessly through well-defined steps. It all begins with:
Step 1: Initial Contact and Inquiry
Our clients put forward their query with us through various communication channels, including our website, phone, email, and social media. They specify the type of cleaning service they require and provide us with the preferred date for the service.
Step 2: Quotation and Consultation
Upon receiving the client's inquiry, we promptly engage in effective communication. We carefully assess their cleaning needs and provide a detailed and competitive quotation. We acknowledge and thoroughly clarify any specific instructions or preferences from the client regarding the cleaning.
Step 3: Booking Confirmation
Once the client is satisfied with the provided quotation, we will email them to confirm the booking. This email serves as a formal acknowledgment of the agreement between us and the client.
Step 4: Scheduling and Planning
With the booking confirmed, we meticulously plan and share the scope of the cleaning task with our dedicated cleaning team. This planning phase ensures that our team is fully prepared, aware of the client's specific requirements, and equipped with the necessary cleaning supplies and eco-friendly products.
Step 5: On-site Arrival on Scheduled Date and Time
On the designated cleaning date, our professional cleaning crew arrives at the client's location punctually. They come fully equipped with a comprehensive range of cleaning supplies, including eco-friendly products and specialized equipment.
Step 6: Billing and Payment
Transparency is a fundamental principle of our service. Following the completion of the cleaning task, we promptly provide our clients with detailed invoices. To facilitate a hassle-free transaction, we offer multiple convenient payment methods, ensuring a seamless and efficient payment process.
By following these detailed steps, Best in OZ Cleaning Services in Canberra ensures that our client receive a thorough, organized, and professional cleaning experience tailored to their specific needs and preferences.
Why Choose Best in OZ Cleaning Services?
Unmatched Experience:
With over 7+ years of experience in the cleaning industry, we bring a wealth of knowledge and expertise to every job. Our professionals have encountered and overcome every cleaning challenge imaginable, ensuring that your home, office, and community space receives the highest level of care and attention.
Customer-Centric Approach:
Your satisfaction is our top priority. We take the time to listen to your specific needs and tailor our cleaning services accordingly. Whether it's a one-time deep clean or a recurring maintenance plan, we adapt to your requirements.
Proven Results:
Our track record speaks for itself. Explore our before-and-after photos and customer testimonials to witness the remarkable transformations we achieve. We take immense pride in delivering consistently outstanding results, leaving your home or office in Canberra spotless and refreshed.
Eco-Friendly Practices:
We care about the environment and your health. That's why we exclusively use eco-friendly cleaning products and methods. Our commitment to sustainability ensures that your space is clean and safe for your family, pets, and the planet.
Transparent Pricing:
With Best in OZ Cleaning Services, there are no hidden fees or surprises. We believe in transparent pricing, providing you with a clear understanding of the costs involved. Our rates are competitive, offering exceptional value for the quality of service you receive.
72 hr Warranty:
Your peace of mind matters to us. We stand behind our work with a 72-hour warranty. If you're not completely satisfied with our cleaning service in Canberra, we'll make it right—no questions asked.
Fully Licensed and Insured:
As a fully licensed and insured cleaning service provider, we ensure your complete confidence in our professionalism and reliability. Additionally, we take special care of your property and belongings.
Flexible Scheduling
Life in Canberra can be hectic, but that doesn't mean your home has to suffer. Our flexible scheduling option helps you to accommodate your busy lifestyle. We're ready to tackle your cleaning needs whenever it's convenient for you.
Commitment to Excellence:
At Best in OZ Cleaning Services, we don't just meet standards; we exceed them. Our commitment to excellence is unwavering, and we take pride in consistently delivering exceptional cleaning services that leave your space looking its best.
Areas that we serve…
Griffith ACT 2603
Fyshwick ACT 2609
Queanbeyan NSW 2620
Phillip ACT 2606
Bruce ACT 2617
Belconnen, Inner Suburb ACT
Curtin ACT 2605
Weston ACT 2611
Campbell ACT 2612
Deakin ACT 2600
Reid ACT 2612
Braddon ACT 2612
Experience the Best in Clean!
Book Now for Quality Cleaning in Canberra and Transform Your Space.
FAQs