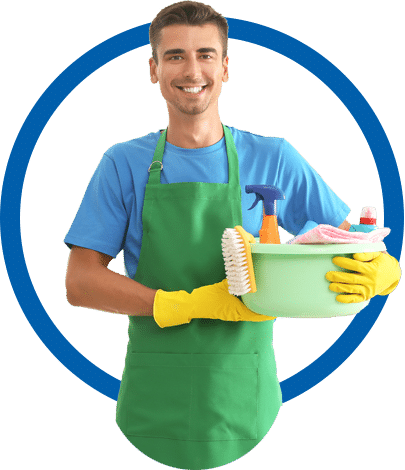 Professional Office and Commercial Cleaning Sydney, NSW
Best in Oz Cleaning Services is an established cleaning company in your area with an impeccable record of efficient execution. We have more than eight years of experience. Our office and commercial cleaning services in Sydney always uphold the industry standards of health, hygiene, and the environment.
Our commitment to the responsible use of cleaning products: chemicals and equipment, ensures safety and the long life of your property and provides invaluable protection against health hazards.
We understand how sensitive and important role cleaning plays in terms of Customer Satisfaction and well-being of the employees and stakeholders through a clean and hygienic environment.
Our clients consider a business with us to be a long-term investment in the health, safety, and environmental aspects of their premises. Given the opportunity to work for your promising company, we will strive to meet your expectations of a clean environment, maintaining our high standards of professionalism and expertise.
2000 + Clients Served
Experienced Cleaners
Multiple Payment Option
Why Choose Best in Oz for Office and Commercial Cleaning in Sydney?
01
Our fully insured cleaners have received extensive training. They are extremely competent and experienced; and are also security checked at the time of recruitment.
02
Our friendly cleaners follow our company's requirements and the latest cleaning standards while doing their work so as to ensure our client's satisfaction.
03
Our clients have booked us for various cleaning responsibilities which stress our competent and capability in the cleanup arena. Even our records hold our clients got their bond without any cleaning issues.
04
Our cleaners use the latest technologies to ensure the protection and longevity of your property which also minimizes health hazards.
05
To obtain free estimation, you can use any of the given methods- online quote form, text, phone, or email. You can select any comfortable method, we'll undoubtedly complete your work.
06
We provide a comprehensive quote in line with the cleaning needs. Before commencement, we will share the cleansing service fee. The invoices are issued after completion.
Here's what our customer says about our
Office and Commercial Cleaning Service
Great service from start to finish. Quote process was prompt, transparent and fair. Cleaners on the day were friendly, easy to communicate with and did a great job.
Steve M.
Office and Commercial Cleaning
Our team at Charlie Teo Foundation are extremely happy with the service provided by Best In Oz Cleaning Services. Highly recommend them!
Lucille F.
Office and Commercial Cleaning
Great service and super reliable. Romin responds well to feedback and ensures all our fussy requests are met!
Milena M.
Office and Commercial Cleaning
Office and Commercial Cleaning Checklist
Offices and Workstations
Empty bins and put new bin liners
Vacuum carpeted Floors
Spot clean walls, partitions and cobwebs
Dust ledges, frames, furniture, rails and fitting
Pick dishes from desks and load into the dishwasher
Dust desks, chairs, furniture, lights, and fit-outs
Amenities and Bathrooms
Clean/disinfect/bleach pans, seats, lids, (urinals), taps, pipes, chrome fittings, doors, door furniture, mirrors, and basins
Soap scum to be removed from hand basins
Showers cleaned
Floor surfaces to be swept and damp mopped with a suitable disinfectant
All hard-tiled floor and wall surfaces to be spot cleaned
Replenish all consumables
Kitchen and Lunchrooms
Empty Rubbish bins and re-bag new bin liners
Load dishes into the dishwasher for washing
Clean Microwave inside and out
Clean Fridge externally (Internally upon request)
Clean sink and polish
Spot clean fixtures and furniture, tiles and walls
Wipe bench top and table surfaces with suitable disinfectant
Floor surfaces to be vacuumed and damp mopped with a suitable disinfectant
Periodic and Detailing
Squeeze Cleaning of all Glazing
Scrub and deep cleaning of all toilets, urinal, and sinks
Scrub and deep Clean kitchen sink
Wash Bins
Air vents to be vacuumed and wiped as required
High Dusting and Cobweb Removals
Tiled flooring scrubbed as required
Steam Cleaning of all Carpeted Flooring
Our Office Cleaning Sydney process
Our care workers will visit the place for an obligation free quote prepared as per your requirements.
We modify any requests and finalize the draft quote. Upon approval, we start on a schedule and commence as per your instructions. We do free initial clean of the site and follow the schedules as proposed. Invoices are sent monthly unless requested otherwise.
Any issues will be addressed within 48 hours of the receipt. All our services are contract less so if you are not happy you can terminate the service.
All workers will go through site-specific training and induction process before commencement. All team members will wear the required PPE and attend all toolbox/site meetings and will be identified by the uniform.
Our professional cleaners sydney will follow all security directions given by the Management and adhere the safety and security protocols of the Site
Remember! Don't be anxious about your cleaning job. Assign to professional cleaners.
FAQs
NO, you don't. we will visit the location with the equipment and cleaning supplies.
We use eco-friendly products.